---
Wafer ceramic capacitors
Part Numbering System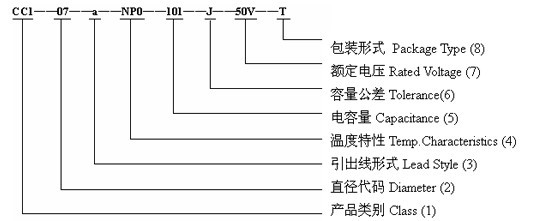 1. Product category CLASS
1.1 Temperature compensation type (Class I)
| | | |
| --- | --- | --- |
| Code | CC1 | CC81 |
| Rated Voltage | 50V ~ 500V | ≥ 1KV |
1.2 High dielectric constant type (Class II)
| | | | |
| --- | --- | --- | --- |
| Code | CT1 | CT81 | CT7 |
| Rated voltage | 50V ~ 500V | ≥1KV | X1Y1/X1Y2 |
1.3 Semiconductor type (Class III)
| | |
| --- | --- |
| Code | CS1 |
| Rated Voltage | 16V ~ 50V |
2. Diameter
| | | | | | | | | | | | | | | |
| --- | --- | --- | --- | --- | --- | --- | --- | --- | --- | --- | --- | --- | --- | --- |
| Code | 04 | 05 | 06 | 07 | 08 | 09 | 10 | 11 | 12 | 13 | 14 | 15 | 16 | 18 |
| D±1(mm) | 4.0 | 5.0 | 6.0 | 7.0 | 8.0 | 9.0 | 10.0 | 11.0 | 12.0 | 13.0 | 14.0 | 15.0 | 16.0 | 18.0 |
3. Lead Style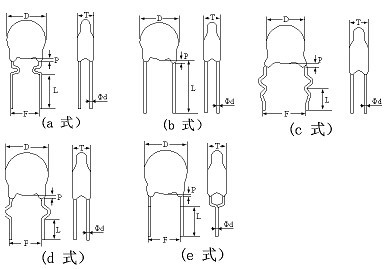 4.Temperature Characterigtics
4.1 Class I
Code

NP0
(C)
N150
(P)
N220
(R)
N330
(S)
N470
(T)
N750
(U)
P350 ~ N1000
(SL)
4.2 Class Ⅱ、 Class Ⅲ
| | | | | |
| --- | --- | --- | --- | --- |
| Code | Y5P (2B 、 BN) | Y5R (2R) | Y5U 、 Z5U (2E) | Y5V 、 Z5V (2F) |
5. Capacitance
| | | | | | | | |
| --- | --- | --- | --- | --- | --- | --- | --- |
| Code | 0R5 | 1R0 | 100 | 101 | 102 | 103 | 104 |
| Capacitance | 0.5pF | 1pF | 10pF | 100pF | 1000pF | 0.01uF | 0.1uF |
6.Capacitance Tolerance
Code

C

D

J

K

M

Z

Cap. Tolerance

±0.25pF

±0.50pF

±5%

±10%

±20%

+80%-20%

Applicable Capacitance Range

≤ 5pF

≥ 5pF
7. Rated Voltage
DC: From 16V to 15KV AC:X1Y1 X1Y2
8. Package Type
Code

B

T

Package style

Parts

Cassette tape

Cassette tape
■Taping Specification
Straight leads

Inner bend lead
Item

Code

Value (mm)

Pitch of component

P

12.7 ±1.0

15.0±1.0

Pitch of sprocket hole

P0

12.7±0.3

15.0±0.3

Lead spacing

F

5.0 +0.8 -0.2

7.5+0.8-0.2

Length from hole center to component center

P2

6.35±1.0

7.5±1.0

Length from hole center to lead

P1

3.85±0.7

3.75±0.7

Body diameter

D

See the individual product specification

Deviation along tape, left or right

△S

0±1.0

Carrier tape width

W

18.0±0.5

Position of sprocket hole

W1

9.0±0.5

Lead distance between reference and bottom planes

H

20 +1.5-1.0

H0

16 +1.0-0.5

Diameter of sprocket hole

ΦD0

4.0±0.2

Total tape thickness

t1

0.5±0.2

Total thickness, tape and lead wire

t2

1.5max

Hold down tape position

W2

1.5+1.5 -0

Deviation across tape

△h

0±1.0
Note: We will continue to improve the product, so if the technical specifications are changed or changed, the specification is subject to change.
---
immediate consultation
If you are interested in our products, please leave your email, we will contact you as soon as possible, thank you!
Enterprise Services
Address: No.18, Jiayuan Middle Road, Jiangning Development Zone, Nanjing
Official website address:www.njyuyue.cn
Sweep the mobile version
All rights reserved©Nanjing Xinyuyue Electronics Co., Ltd.